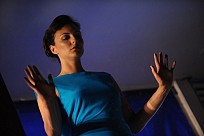 Olga Wehrly in Penelope by Enda Walsh. Photo by Robert Day.
Tickets for Penelope at Druid Lane Theatre (July 8 – 24), as part of Galway Arts Festival, are now SOLD OUT. Please note that the production returns to Galway (Town Hall Theatre) from Sept 9 – 12 and is also on tour in Ireland. For more information, you can click here.
CANCELLATION
LIST
PROCEDURE
Druid is operating a cancellations list to meet the demand for tickets to Penelope. Unfortunately we cannot guarantee that tickets will be available but we do endeavour to facilitate as many requests as possible.
Please arrive at Druid Lane Theatre an hour before the show; 7pm for the 8pm show and 2pm for the 3pm matinee show
Leave your name with the Front of House Manager
Return to Druid Lane Theatre fifteen minutes before the show starts
If and when tickets become available, they will be released to those on the list – this will happen just a few minutes before the show starts


BOOKING
INFO
FOR
GALWAY
ARTS
FESTIVAL
To book tickets for any other shows at Galway Arts Festival, please see the booking details below.
BOX OFFICE INFO
Opening Hours: Mon – Sat 10am – 5.30pm & Sun July 18th 1-5pm
Online: On sale online www.galwayartsfestival.com
By Phone: +353 91 566 577
In Person: Galway Arts Festival Box Office, Galway Tourist Office, Forster Street Galway.
---