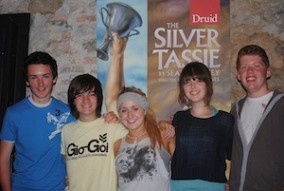 Peador O'Goill, John Gaughan, Miriam Ward, Lara Connaughton and Martin Kenny – the Galway Chorus for The Silver Tassie.
It's the third week of rehearsals for Druid's forthcoming production of The Silver Tassie and this week we talk to the five young people from Galway we'll be seeing on stage in just a few weeks.
Lara Connaughton, John Gaughan, Martin Kenny, Peadar O'Goill and Miriam Ward all auditioned through Druid's open auditions process last June.
This article appears in today's Galway Advertiser. For full details about the production click HERE.
WHAT SCHOOL ARE YOU IN AND WHAT PREVIOUS EXPERIENCE DID YOU HAVE PRIOR TO THIS?
Martin: I just finished my leaving cert in the Bish and always liked singing but had never been in any plays. My mum saw the audition notice in the paper and said I should try it out. I've been thrown in at the deep end but it's a great way to start.
Lara: I go to Salerno in Salthill and attend the Garvey School of Speech & Drama. I've also done some work with the Power Twins, Peter Kennedy and with An Taibhdhearc.
Miriam: I'm from Ballinasloe and am in school at Ard Scoil Mhuire. I'm in Grade 10 of Speech & Drama at The Leinster School of Music & Drama and I've been doing operatic singing for 3 years.
Peadar: I live on Inis Mór and play guitar and bass in a band. I played the lead role in Philadelphia Here I Come at school last year but the singing was the main attraction here.
John: I just finished my Junior Cert in Gort and was in DruidSynge in 2005 and toured with Druid to the USA with the same show in 2006. I also did an Enda Walsh one-act play with Druid in 2008 called Lynndie's Gotta Gun.
WHAT WAS IT LIKE COMING INTO THE REHEARSAL ROOM FOR THE FIRST TIME?
Martin: At first we were almost afraid to go in with all the professional actors but they made us all feel really welcome.
Lara: I had seen some of the actors on stage at Druid's 35th birthday event last May and was in awe when I first came into the room but then everyone was so nice and so interested in getting to know us.
John: I had worked with Aaron and Eamon before on DruidSynge so it's great being back with everyone again.
HOW ARE YOU FINDING THE MUSIC IN THE PLAY?
Lara: The melodies really stay in your head and there's quite a contrast between the actual melodies and the war setting but they work really well together.
Martin: Yeah, there's a jazz song that might not normally belong on a battlefield but it works when you hear it in this context.
WHAT'S IT LIKE DEALING WITH THE SUBJECT MATTER OF WAR?
Lara: Although it's a play about World War One, it's a human interest story really. It's very watchable and enjoyable.
Martin: These stories of war are continuing almost 100 years on and while you're always aware of the tragedy of war, it focuses more on the personal stories. There's a lot of comedy in there too.
Peadar: At the start of the play these young men focus only on the glory of war and they never seem to think about the possibilities of death but you get to see how war can affect an individual's life.
CAN YOU TELL US A LITTLE BIT ABOUT BEING IN THE REHEARSAL ROOM?
Lara: It's a total honour – it's great to see the professional process and to be working with someone like Garry Hynes. Everything gets really polished and everyone just wants to do their best.
John: Here everyone has an input and you don't feel like you're being instructed or ordered to do something – it's a really good process.
Miriam: You get to really think about what you're doing and to explore the part you're playing which is great.
Martin: Brilliant- after we ran through our part the other day, everyone clapped afterwards and Garry said she she was really proud of the work we had done.
Peadar: It's just a really nice atmosphere and you can ask questions and everyone is really approachable.
HAS THIS EXPERIENCE GIVEN YOU ANY FURTHER ASPIRATIONS TO PURSUE ACTING?
Miriam: Absolutely, seeing everyone in there really makes you want to go on and do more. You can try something different with every new character you're working with.
Martin: Compared to some of the jobs my friends have to do, this is fantastic!
What do you think audiences will make of this?
Miriam: I think people our age and of all ages will enjoy it.
Martin: The music really helps to convey the mood so I think audiences will really enjoy that.
Lara: The actors do such a good job and the fact that Elliot has rewritten the music has brought in a whole new tone to it which people should really enjoy.
WHAT ARE YOU MOST LOOKING FORWARD TO OVER THE NEXT FEW WEEKS?
All: Opening night and the party afterwards! When everyone is on stage and in costume it'll be really exciting.
About The Silver Tassie
The Silver Tassie runs from Monday August 23 to Tuesday September 7 in the Town Hall Theatre, Galway and is then on tour in Ireland and the UK until October 24th. For full details go to the production page.
To book tickets in Galway:
Tel: +353 (0)91 569 777
Book Online: Town Hall Theatre
Ticket Prices: €18/€20/€25