In our second week behind the scenes of The Silver Tassie, we talk to Musical Director, Elliot Davis, and actor, Derbhle Crotty. This article appears in today's Galway Advertiser. For full details about the production, click here.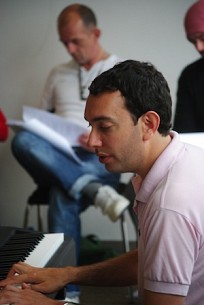 Musical Director Elliot Davis in rehearsals for The Silver Tassie by Seán O'Casey.
Elliot Davis started his musical career with the great Lionel Bart who is best known for creating the music and lyrics for Oliver. Elliot has since worked on a number of West End musicals – Miss Saigon, Les Miserables and Blood Brothers – and is a prolific music documentary maker. He has interviewed, written and produced documentaries about some of the world's biggest music artists including, Neil Diamond, Freddie Mercury, Barry Manilow, Liza Minnelli, and the Bee Gees. This is Elliot's first time working with Druid.
Derbhle Crotty is one of Ireland's leading actors and has worked extensively in Ireland and overseas. In 2008, Derbhle won the Best Actress award at the Irish Times Irish Theatre awards. The Silver Tassie marks Derbhle's sixth production with Druid.
WHAT ATTRACTED YOU TO THE PLAY?
Elliot: When Garry first sent me the play, I didn't know O'Casey's work but when I read it I felt that it's a story for now. The story of war is one that has continued since time immemorial and so the play really resonated with me. Having spent a lot of time working on West End musicals, this is a new challenge for me.
Derbhle: I spent a lot of time reading about World War One about 10 years ago so it's really interesting to revisit this period in our history. I play the character Mrs Foran, whose husband Teddy, is away at war. The women are concerned about money but it was the reality of their time – they were fighting for a survival of their own kind at home. This may be perceived as somewhat mercenary today but for Mrs Foran is very dependent on her husband for survival while at the same time being very independent.
WHAT APPROACH HAVE YOU TAKEN TO THE MUSICAL DIMENSION OF THE PLAY?
Elliot: The challenge was to do something definitive with the play and to adapt it for a modern audience. Garry gave me a really wide remit, which allowed me a lot of creativity to go away and to write what I wanted, particularly for Act II. We're now in the process of bringing that to life in rehearsals and it's very exciting.
Act II is set on the battlefields of France and the style of music originally had a religious feel to it. We wanted to move away from that so I've rewritten the music for almost all of the songs but we have kept the original lyrics. The atmosphere takes on a music hall type feel to it so it's more of an entertaining comment on the environment of war.
HOW ARE REHEARSALS GOING FOR YOU?
Derbhle: We're still at the early stages but we've done a lot of work on Act I and Act II. The jolliness of the music hall era is great – I find the counterpoint really interesting in that we're working with these chirpy tones but the songs are of death and destruction. I think the set design will blow people away and the visuals are really something else.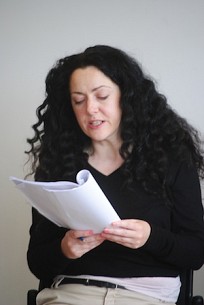 Actor Derbhle Crotty in rehearsals for The Silver Tassie by Seán O'Casey.
WHAT'S IT LIKE WORKING WITH THE YOUNG PEOPLE?
Elliot: Really great – they tend to learn things super fast because they've no inhibitions. I've done a lot of work with young people and they embrace whatever you throw at them. Today was their first day and they sang in front of the entire company only 20 minutes after learning a song. They were on it immediately and they've got beautiful voices as well.
Derbhle: To hear their beautiful haunting voices was just breathtaking – the sound of young voices says everything. They will add an extraordinary dimension to the play and it's also quite heartbreaking to hear these young people singing songs of war – it allows you to really imagine them as young soldiers.
WHAT CAN AUDIENCES EXPECT TO SEE IN THREE WEEKS TIME AT THE TOWN HALL?
Derbhle: A musical extravaganza!
Elliot: A complete range of theatrical styles that will have you feeling as if you're in a musical one minute and in a drama the next. The trick for us is to incorporate all of the different theatrical styles while still making it cohesive. I think we're on the right track!
Next Week we'll be talking to the five young people from Galway who are involved in the production.
About The Silver Tassie
The Silver Tassie runs from Monday August 23 to Tuesday September 7 in the Town Hall Theatre, Galway and is then on tour in Ireland and the UK until October 24th. For full details go to the production page.
To book tickets in Galway:
Tel: +353 (0)91 569 777
Book Online: Town Hall Theatre
Ticket Prices: €18/€20/€25