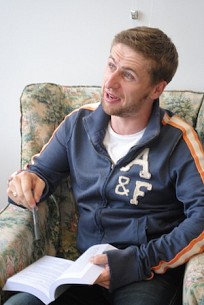 Actor Aaron Monaghan in rehearsals for The Silver Tassie by Seán O'Casey.
Druid's production of The Silver Tassie kicked off rehearsals on Monday July 19th and will be an epic staging of one of O'Casey's great plays.
The following article appears in today's Galway Advertiser as part of a weekly behind the scenes look at the rehearsal process and what it will take to bring The Silver Tassie from the page to the stage. Actor Aaron Monaghan talks to Druid General Manager, Tim Smith, about the first week of rehearsals. To read the Galway Advertiser online version click here.
Aaron plays the role of Harry Heegan. The Silver Tassie is on tour in Ireland and the UK from August 21st to October 24th. For full details click here.
TIM: SO AARON, WHAT ARE FIRST DAYS LIKE?
Aaron: Usually terrifying and very exciting at the same time but the good thing about Druid is that it always feels very familiar – very much like home and it's really good to be in Galway.
TIM: ACTORS FREQUENTLY SAY THAT THEY REALLY ENJOY REHEARSING IN GALWAY – WHY IS THAT?
Aaron: Well for me personally although I had the last three weeks off I was very busy with life but now that I'm here in Galway I've nothing to worry about other than focusing on the play. I suppose there's less room for distractions.
TIM: WHAT'S IT LIKE HEARING THE PLAY READ OUT LOUD WITH ALL THE ACTORS IN THE ROOM – DOES IT CHANGE YOUR PERCEPTION OF IT?
Aaron: It's always very enlightening and it opens the play up in a way that you can't possibly have noticed before. Each time it comes on in leaps and bounds. How did you find it?
Tim: Really fantastic – to go from having five actors in Penelope to having so many people in the theatre is phenomenal – you suddenly realise the scale of what we are about to do.
Aaron: Yeah, we did a movement workshop today and to be honest I hadn't fully realised the scale of it either – this isn't an ordinary play in terms of Druid simply putting on another production. It feels like it has the quality of a new DruidSynge. The play is more epic than I thought it was – it's going to be much harder work and yet we're approaching it in a different way – we're doing vocal and movement warm-ups every morning which is very interesting.
TIM: WELL GARRY SAYS THE ENTIRE PLAY ALMOST LIKE FOUR DIFFERENT PLAYS – WHAT ARE YOUR THOUGHTS AT THIS STAGE?
Aaron: Yes, I'd agree. Already this week we got up on our feet and tried to put as much music and singing into Act 2 as possible. It's an unusual act and you need to just play around it with it and kick it about to see what it's like. Overall though the play is a lot of fun but there's darkness too and Elliot, our music director, has put in some really quirky stuff – it's really quite fun.
TIM: ARE YOU LOOKING FORWARD TO WORKING WITH ACTOR/MUSICIANS – IS THAT A FIRST FOR YOU?
Aaron: I've done a few things before where there might have been a few musicians in it but this feels like a full on musical actually. It's great that there's a piano permanently in the room and that Elliot will break into song when we get to a musical bit and we're encouraged to do that as well.
TIM: DOES THAT MAKE THE SINGING ASPECT OF THE PLAY EASIER TO RELAX INTO THEN?
Aaron: O'Casey has written so many songs into it so that virtually every character sings – it's almost as if it's meant to be a musical. I don't think we're necessarily approaching it that way but I don't feel daunted about singing either so that makes it easier.
Tim: I've been at Druid for eight years and like you say it feels like we're approaching this as if it's not a regular Druid play.
Aaron: I'd agree. We've got four musicians and five young people joining us later in the week to bring us up to a cast of 19 and I've never seen anything like that before in a Druid rehearsal room.
TIM: ARE YOU COMING IN CONTACT WITH THINGS YOU WOULDN'T NORMALLY HAVE IN THE REHEARSAL ROOM?
Aaron: Absolutely – today we watched 'Way out West' with Laurel & Hardy which was really good fun. The more references you get to see the more it helps to create an image of that era.
TIM: OUR DESIGNER FRANCIS O'CONNOR HAS WORKED ON MANY DRUID PRODUCTIONS – WHAT DO YOU MAKE OF HIS DESIGNS?
Aaron: I think it has unified everyone's vision of the play. Garry and the creative team have spent a lot of time with the play already and we're all looking forward to delving further into the play over the coming weeks.
About The Silver Tassie
The Silver Tassie by Seán O'Casey, directed by Garry Hynes, runs from Tuesday August 24 to Tuesday September 7 in the Town Hall Theatre, Galway and is then on tour in Ireland and the UK until October 24th. For full details go to the production page.