The Cripple of Inishmaan transferred from Chicago to the Kirk Douglas Theatre in Los Angeles on April 5 and kicked off a four week run which will end on May 1, 2011.
The opening night on April 6 was attended by Kirk Douglas and the following week they received this lovely letter from the man himself – full text below. Thank you Kirk for your very kind words.
---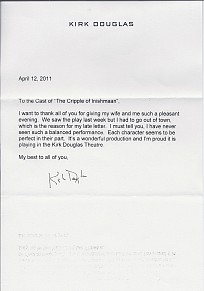 April 12, 2011
To the Cast of "The Cripple of Inishmaan"
I want to thank all of you for giving my wife and me such a pleasant evening. We saw the play last week but I had to go out of town, which is the reason for my late letter. I must tell you, I have never seen such a balanced performance. Each character seems to be perfect in their part. It's a wonderful production and I'm proud it is playing in the Kirk Douglas Theatre.
My best to all of you,
Kirk Douglas
---
About the Kirk Douglas Theatre in LA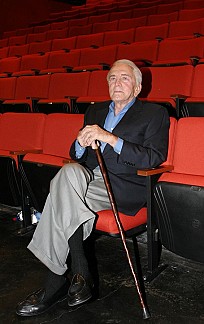 The Kirk Douglas Theatre is located at 9820 Washington Blvd., Culver City, CA 90232. The Douglas, which was transformed in 2004 from an historic 1940s Streamlined Moderne-style movie house, The Culver Theater, into an intimate 317-seat live theatre venue, was named for the theatre's initial major donor, Kirk Douglas. Douglas and his wife, Anne, contributed $2.5 million and provided the crucial first step in realizing the much-needed, mid-sized theatre space for Center Theatre Group, whose other theatres include the 739-seat Mark Taper Forum and the 1600 to 2000-seat Ahmanson Theatre at the Los Angeles Music Center. The original Culver Theater was built right in 1947, and for the next 42 years the movie house was a central part of Culver City and the surrounding communities. It is believed that Kirk Douglas' movie "Spartacus" played there in the early 1960s.
---
For more information about The Cripple of Inishmaan tour, click on this link.