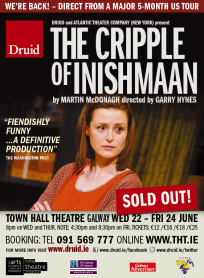 The cast and crew of The Cripple of Inishmaan by Martin McDonagh have already received a great homecoming in Galway, even before they take to the stage for their first show back on homeground.
The run at the Town Hall Theatre is completely sold out and phones are still hopping with people looking for tickets. The two performances on Inis Meáin on Sunday June 26th are also sold out.
We first presented our production of 'Cripple' at the Town Hall Theatre in 2008 and had a fantastic two week run. We're delighted that at the end of this major 5-month US & Irish tour, our enthusiastic Galway audiences are out in full force to welcome us home. A big thank you from all the Druids!
Post-Show Talk – Thursday June 23rd
Members of the 'Cripple' cast, General Manager, Tim Smith and Company Manager, Sarah Lynch, will take part in a post-show talk at the Town Hall Theatre at approximately 10.30pm on Thursday June 23rd. All are welcome.