The Gaiety Theatre
53-54 South King Street, Dublin 2
Monday 20th to Saturday 25th January, 7:30pm
Nightly at 8pm and matinee on Saturday 25th January at 2:30pm
the arts council/an chomhairle ealaíon funding theatre. artscouncil.ie
NUI Galway / ÓE Gaillimh. Galway's University supporting the arts. nuigalway.ie
A suspense-filled tale of tangled love, misplaced honour and downright skulduggery.
Tony award winning Druid's new production of Dion Boucicault's The Colleen Bawn will be a perfect post-Christmas treat.
Will the course of true love run smooth when those around you will stop at nothing to make sure you marry the right woman?
Director Garry Hynes has once again assembled an outstanding cast of some of Ireland's leading actors, including DruidMurphy's Marie Mullen, Maelíosa Stafford, Aaron Monaghan with Big Maggie's John Olohan and Aisling O'Sullivan to ensure that this Colleen Bawn will be a source of mirth and edge-of-the-seat engagement for all the family. Queen Victoria saw the play three times, but don't expect Victorian costumes, just expect to be enthralled…
Oh, and there's live music too!
Cast
| | |
| --- | --- |
| Hardress Cregan | Marty Rea |
| Myles na Coppaleen | Rory Nolan |
| Danny Mann | Aaron Monaghan |
| Father Tom | John Olohan |
| Mr Corrigan | Maelíosa Stafford |
| Eily O'Connor | Kelly McAuley |
| Anne Chute | Aisling O'Sullivan |
| Mrs Cregan | Marie Mullen |
Design Team/ Musicians
| | |
| --- | --- |
| Directed by | Garry Hynes |
| Designed by | Francis O'Connor |
| Movement | David Bolger |
| Lighting | Ben Ormerod |
| Sound | Gregory Clarke |
| Additional Music | Sam Jackson |
Production Team
Production Team
DruidMurphy: Conversations on a Homecoming
DruidMurphy: A Whistle in the Dark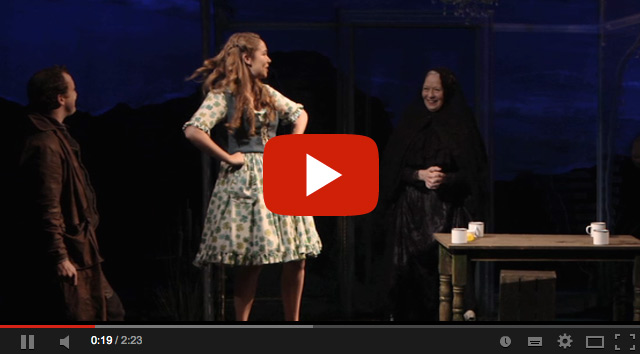 ★ ★ ★ ★ ★
"Stupendous … Thrilling … A stunning slice of popular theatre … the only decent thing you can do is relish it"
IRISH EXAMINER
★ ★ ★ ★
"Garry Hynes and her superb cast", "Striking"
THE IRISH TIMES
★ ★ ★ ★
"Garry Hynes and her excellent cast…"
THE GUARDIAN
"Brilliantly done… Prepare to be enthralled"
IRISH INDEPENDENT